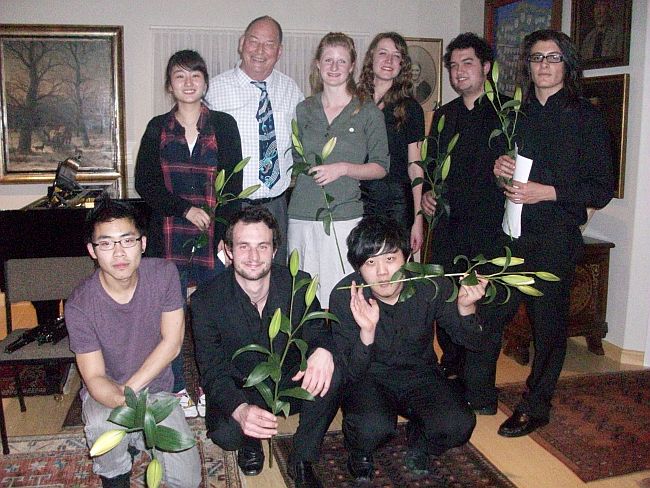 After all the waiting, it's time for another House Concert. Thanks to Katherine Austin, this exciting concert is really two concerts in one. Totally different from last concert, but certainly representing the "crème de la crème" of the students of the Waikato University's Music Department. Tickets are $20 each. The profit from this concert (and the one on 15th October) goes entirely to the musicians to cover their costs and especially to the two cellists who have been invited to the International Cello Competition in Beijing in October 2010. This will give them a decent subsidy or sponsoring as we may say and hopefully they will perform well there and later on again in NZ.
The Programme
Beethoven Clarinet Trio Op 11
Brahms Clarinet Trio in A minor Op 114
Beethoven Piano Quartet in C major WoO37
Brahms Piano Quartet in C minor
Scherzo from Fauré's Piano Quartet in G minor
Anthonie Ritchie Piano Quartet (2006)
[readon url="index.php/previous-concerts/17-sep-2010/programme-notes"]Learn More[/readon]
The Performers
There will be two groups performing - the Isolani Trio, and Die Unsterblichen Vier piano quartet.
Isolani Trio
Piano - Gabrielle Peake
Clarinet - Ying-Te Liu
Cello - Sarah Lee
[readon url="index.php/previous-concerts/17-sep-2010/isolani"]Learn More[/readon]
Die Unsterblichen Vier Piano Quartet
Piano - Rafaella Garlick-Grice
Violin - Adam Maha
Viola - Sebastian Lowe
Cello - Santiago Canon Valencia
[readon url="index.php/previous-concerts/17-sep-2010/unsterblichen "]Learn More[/readon]